Our Corporate Governance
We believe in the revitalization of value. We have built our corporate governance philosophy around goal of reclaiming potential value and fostering the prosperous domino effect that follows. We believe that the establishment of corporate governance is essential for the sustainable development of a company.
We recognize the importance of building and maintaining trust with not only our stakeholders, but also our shareholders, business partners, employees, and local communities. In keeping with this belief, we are always working to further enhance corporate governance by thoroughly developing internal controls to improve operations throughout the Company.
Corporate Governance System
In addition to establishing the corporate organizations of Board of Directors and a Board of Corporate Auditors, business management meetings have been established as a designated period for consultation and decision-making for the purpose of greater management and business execution. The contents of each division of the Company are as follows.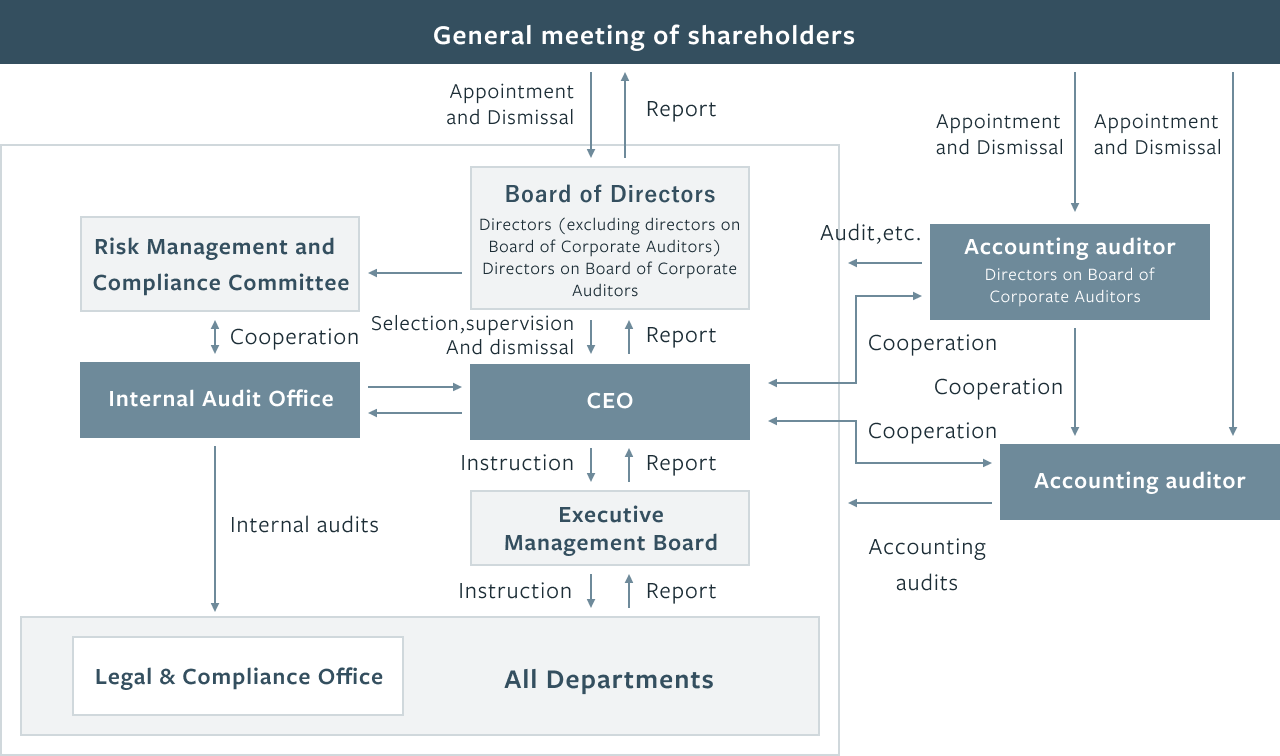 A

Board of Directors

The Board of Directors Is comprised of eight directors, including one outside director. Regular board meetings are held monthly. Special board meetings also occur when necessary. In addition to making important management decisions, the Company strives to oversee and monitor the execution of directors' duties in a multi-faceted manner to ensure the efficiency and transparency of our management.

B

Board of Corporate Auditors

The Board of Corporate Auditors consists of three members, one full-time corporate auditor and two part-time corporate auditors (all three members are external corporate auditors). The corporate auditors attend meetings of the Board of Directors and other important meetings based on the "Auditor Auditing Regulations". Their responsibilities include inspecting plans, sharing opinions about business operations, interviewing the directors and leaders of each department, and appropriately monitoring management. In addition, we work closely with internal and external auditors and accounting auditors to improve the effectiveness and efficiency of inspections.

C

Business Management Meetings

In principle, the Company holds monthly management meetings in which full-time directors and full-time corporate auditors attend. At the business management meetings, important discussions are held regarding management and business operations, decision-making, and business executions including presented reports with details regarding each department. The business management meetings give all attendees opportunities to share information and have thorough discussions.

D

Internal Audit

The Internal Audit Office has been established as an independent organization. The head of the Internal Auditing Office is appointed by the Representative Director and conducts internal audits based on the annual plan for internal auditing. Audit results are reported to the representative director. Based on the results of the report, the Representative Director instructs the audited departments to make improvements and reports the results to maintain and improve internal control.
Furthermore, in order for internal auditors, corporate auditors, and accounting auditors to conduct audits effectively and proficiently, we readily exchange information when necessary to achieve more efficient and thorough audits.